What our customers say
Just want to say a big thank you for the service you provided in fitting our new boiler. After quite a few years of putting off having one due to disruption and cost etc we decided to finally have one fitted. I remember when I rang your office you not only answered my call in one ring but had an engineer out that afternoon to look at the job. Within 2 days I received your quote in the post which was extremely reasonable and booked us in the same day for the job to be done shortly after. Your engineers were extremely professional, polite and got what turned out to be a tricky installation done in a clean and seamless manner. Everything works well but we are safe in the knowledge that we can call on you at any time with any problems. Just want to say a huge thank you again and of course we will recommend you to anyone we can.
Ann – July 2019
---
We would like to thank your team for excellent service, from the first contact with yourself, to the completion of the works. Special mention must be made of Callum and Rhys – we were really impressed with their work ethic, their attention to detail, and the way they minimised the disruption to us throughout the work. They kept us fully informed and completed the work on schedule. And they didn't eat one chocolate biscuit ! Thanks again & Best Regards
Bob & Linda – June 2018
---
Thank you so much for your prompt and efficient service!
I shall be recommending you to anyone who needs plumbing or heating.
Audrey – March 2018
---
It was an absolute pleasure to have Groves Gas complete the work for us, we are both very pleased with the quality of the work and the log burner and would have no hesitation in recommending you in future.
A. George – March 2018
---
Can I just say a very big thank you for rescuing my mother in law today. The weather is absolutely appalling but Michael got there and sorted the problem. What a brilliant service and thank you once again.
Mark & Sian Edwards – March 2018
---
Cracking couple of days thanks to my Combi boiler. Friday it decided to vomit water all over the airing cupboard floor! Quick call to Groves Gas, all sorted. Spare part ordered for Monday, heating and water on. This morning the heating decided to join the party! I lasted till 11 o'clock, another frantic call to Groves Gas (I was freezing), 20 minutes later Groves Gas pull up and problem sorted – happy bunny for the rest of the day. Then on the Monday a lovely young man from Groves Gas galloped along on his white horse (well his white van really) and I now have hot water again! I have to say they've been diamonds!.
M. Palmer – February 2018
---
Just wanted to say that the guys who did the job were really great. They were really polite and efficient which is what you're looking for when getting a job done in your home.
D. Kemp – February 2018
---
It is a pleasure to have Gareth working in the house and I would happily recommend Groves gas to anyone in need of a good, reliable company to work in their property.
D. Horne – January 2018
---
Groves Gas have been the best plumbers/gas engineers we've ever dealt with. Your customer service is excellent. So easy to deal with everything by email and every appointment we've had with you over the past few years, the engineer (usually Stan) turns up on time and are very friendly and helpful. Wish I had discovered you years ago which would have saved us many unfortunate experiences we've had with other companies over the years. Many many thanks for being an excellent company. I recommend you to everyone who mentions that they're looking for a plumber or gas engineer.
Gill – January 2018
---
Thanks Shaun and the lads great job with the log burner really pleased and the room is cleaner when you left than you found it thanks again
G. Sansom – November 2017
---
Just had wood burner fitted by groves gas. Very professional ,very tidy and very friendly, would highly recommend these guys to anyone
G. Sainsbury – December 2016
---
As a landlord with property out of the area in which I live, it can often be difficult to find people who I can trust to be professional, fair and competitively priced … I am very impressed with the service I received! Thanks Groves Gas! Will put you on speed dial!
A. Symes – May 2016
---
Used this company on recommendation of a friend. 5 star service, could not fault them
L. Reardon – November 2016
---
Very polite and clean worker's just like the old days when it mattered thank you so so much!
K. Gordon – June 2016
---
A very professional and friendly team all round
R. Caton –  February 2016
---
Very polite, Good prices, Awesome workforce!
D. Cubitt – December 2015
---
I would like to say a huge thank you to Shaun and the boys for a fantastic installation of our new heating system. They were very professional and very tidy. They worked very well and efficiently completing a fab job in 3 days. I would recommend Groves Gas everytime. They were also fab looking after our 2 dogs while they were working. Thanks Shaun for a fab job!
R. Bennett – January 2014
---
I would like to thank Stan for his excellent work and professional attitude in replacing a faulty gas valve on my boiler. He is a credit to Groves Gas and I highly recommended the company for any related issues. Stan went out of his way to ensure that we had heating and hot water for our sons 2nd birthday and I would like to thank him personally for all the work he has carried out. I will now be using Groves Gas for my future servicing. I cannot praise them enough.
R. Washer – December 2013 
---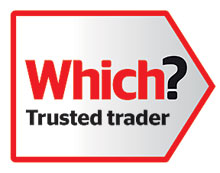 Which? Trusted Trader
We are proud to have Which? Trusted Trader status, to view our profile or to leave us a review please click the logo above.
Complaints
Where we cannot resolve any complaints using our own complaints procedure, as a Which? Trusted trader we use Ombudsman Services Ltd for dispute resolution.
In the unlikely event of a complaint arising and you wish to refer the complaint to them please contact Which? Trusted Traders in the first instance on 0117 981 2929.
We're proud of the Great feedback we receive!